Main Page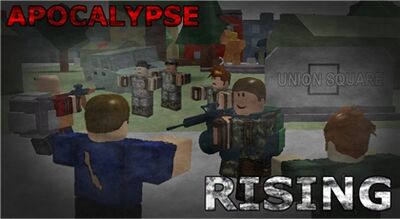 READ THE MANUAL OF STYLE AND THE RULES BEFORE EDITING!
Hello, and welcome to the official Apocalypse Rising Wiki! If you're new to editing, make sure to check out the wiki rules and basic contributing guide before editing or creating anything.
About the Game
Apocalypse Rising is a ROBLOX game based off of the ARMA II mod DayZ. It was built by Gusmanak and scripted by ZolarKeth. The goal of the game is to survive and fight in a post-apocalyptic world, populated by flesh eating zombies and other survivors. Your personal choices will alter the game tremendously; you could be a Bandit who hunts down innocent people to murder them and take their loot, a survivor who stays out of fights, or a hero who defends the innocent from bandits. There are 2 tiers of badges; one for having aggresive kills, and the other for having zombie kills. Choose your destiny.
Featured Video